This giveaway is closed. Thanks everyone for entering. See you at the next hop on January 1, 2011.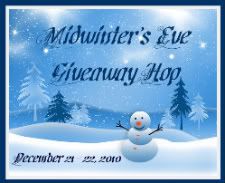 Happy Midwinter's Eve!
Trying to figure out what to giveaway for this Hop contest was kind of difficult. I had to make my prize related to books and I wanted to make it related to music. So I decided to give away a two copies of a bookazine about one of my favorite women in music right now- Taylor Swift. Let's just be honest the girl is interesting. She was undoubtably one of the most successful people in the music industry this past year. And, like any great author, she is quite the maverick with words.
All you have to do to enter the contest is leave a comment on the blog with your name and email address.
A winner will be chosen and contacted on Thursday December 23rd!
Please follow this blog for future contest and amazing contest!
While your here make sure to check out our other contests:
AND Check out the blogs below for more Midwinter's Eve Giveaways!